How can WordPress account be more secure !
The world of technology is no more behind. People are much more advanced now but as there is a growth in the productivity, there's also increase in the chances of data theft. Thousands of articles and posts are being updated regarding Data Security that brings to us a lot of solutions or alternatives. By viewing such updates, a single word arises in everyone's mind that's "BUT" and that but is related to the confusion of selecting the best among the alternatives.
SUCURI SECURITY Plugin can be used for protection of their datas. It is one of the best plugins for WordPress and also free for all WordPress users. Sucuri Inc. is a globally recognized authority for website security. It offers its users a set of features related to website security :
1.Security Activity Auditing
2.File Integrity Monitoring
3.Remote Malware Scanning
4.Blacklist Monitoring
5.Effective Security Hardening
6.Post-Hack Security Actions
7.Security Notifications
8.Website Firewall (premium)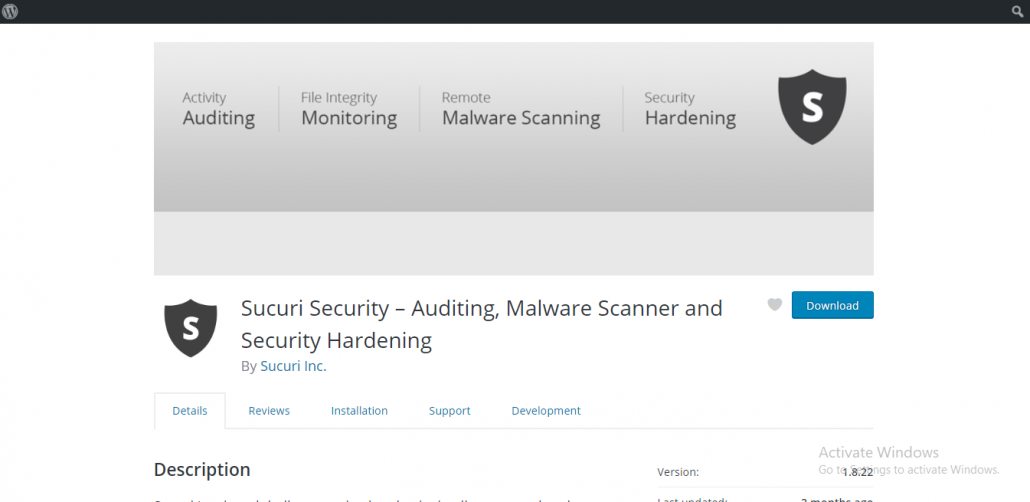 For more details and advanced features you can visit the link below;
click here
You can download the plugin here :
Sucuri Security – Auditing, Malware Scanner and Security Hardening
The following set of features are provided for free to all WordPress users:
SECURITY ACTIVITY AUDITING
This is the most underused security function. Its activity comprises of monitoring all security related events within installed WordPress. In the eyes of Sucuri, any kind of change that occurs will be categorised as a security event and it is recorded.
This is important as it provides the website owner, the capacity to hold a control and a keen sight on the occuring changes in their website. This feature helps to secure all the logging details to the Sucuri cloud for better safety. It allows the security of your every kind of data such as forensic data, bypass of security controls, etc from any kind of Cyberpunk and keeps it safe in the Sucuri Security Operations Center (SOC).
FILE INTEGRITY MONITORING
Security File Integrity Monitoring is an internal process that executes the validation of the integrity of operating system and application software files with the help of a verification method between current file state and a good baseline.
And from then, any provided file integrity monitoring system will work by developing a comparative relation between file attributes, file sizes and hash signatures from the baseline to another that has value derived later on.
It will create a known good baseline, the moment the plugin is installed. File Integrity Monitoring will scan, analyze, and report on unexpected changes to important files in an IT environment.
REMOTE MALWARE SCANNING
This feature is powered by Sucuri security scanning engine. It is necessary to go through the working flow process the scanner. Please visit: https://sitecheck.sucuri.net/
BLACKLIST MONITORING
Another very essential feature of Security Malware Scanner is that it verifies various blacklist engines, including:
Sucuri Labs
Google Safe Browsing
Norton
AVG
Phish Tank
ESET
McAfee Site Advisor
Yandex
SpamHausBitdefender
These are some of the largest blacklisting entities, each having the capability to directly impact your brand's online reputation. By synchronizing with their environments we're able to tell you, upon scan, whether any of them are negatively flagging your website with a security related issue. Our website security product helps you get off of the security blacklist.
EFFECTIVE SECURITY HARDENING
At Sucuri, we clear hundreds of websites per day, many with the various security hardening configurations which is fetched in various WordPress Security presentations. This feature is in regard with the addition of those that are suspected to be most effective, and those that complement the entire Sucuri suite of products.
POST HACK SECURITY ACTIONS
Regardless of how powerful your security strength is, sometimes it's impossible to prevent the inevitable. When this happens, we've included a section to help you walk through the three key things you should do after a compromise.
SECURITY NOTIFICATION
Having all these security features would be useless unless you were notified of the issues. This is why we have made available security alerts. As a website owner, you have the option to make these security alerts as quiet or noisy as you would like.
WEBSITE FIREWALL (PREMIUM)
This is by far the coolest security feature Sucuri has to offer everyday website owners. It's an enterprise grade Website Firewall designed to give you the best security protection any website can hope for. It protects your website from a variety of website attacks, including: DOS or DDOS Attacks, Exploitation of Software Vulnerabilities, Zero Day Disclosure Patches, Brute Force Attacks against your Access Control Mechanisms.
The Sucuri WordPress Security plugin is built by the team that is known for their proactive approach to security. It is built using intelligence gathered from thousands upon thousands of remediation cases, millions of unique domain scans and 10's of millions of website security attack blocks.